Specifications for the Romanian PSL Sniper
7.62 x 54mm Rimmed
R
The PSL Sniper Rifle (Pusca Semiautomata cu Luneta, or "scoped semi-automatic rifle") is a 7.62 x 54mm Rimmed Cartridge caliber platoon level sniping rifle. Developed in Romania in the 1970s to answer their sniping needs and similar in appearance to the Soviet Dragunov Sniping Rifle, the PSL is actually a much different rifle internally.
PSLs are the most common sniping rifle encountered in Iraq and Afghanistan and are used on both sides of the indigenous forces in each country, making them an icon from the Iraq and Afghan wars. They are in widespread use in many countries, still serve in their native Romania and some have been rechambered into 7.62x51 NATO to conform with the NATO Alliance membership.
Unlike the Soviet Dragunov, the PSL is built on a stamped receiver. None of the parts are interchangeable, including the magazines. The PSL is in essence an RPK design in a larger caliber with a longer front trunnion. The gas system is of the Kalashnikov design and differes considerably from the Dragunov. The rear stock has an integrated shape to fit the cheek rather than an attached cheek pad.
Two Rivers Arms PSL sniping rifles are built on 100% original Romanian parts and orignal and US made receivers. The receivers are marked with the proper Romanian selector notches and amrkings like the orignals. Two Rivers PSLs are hot blued for a spectacular finish, far beyond the competitor imported rifles.
Two Rivers PSL rifles have matching numbered parts (while available) with original wood and are serialed to match on original receivers. Each rifle is hand fitted for accuracy and range tested to provide the most accurate performance possible. For an additional price, an original Romanian 4 x powered scope can be fitted and tested to your rifle, providing the long range performance capability of a true sniping rifle.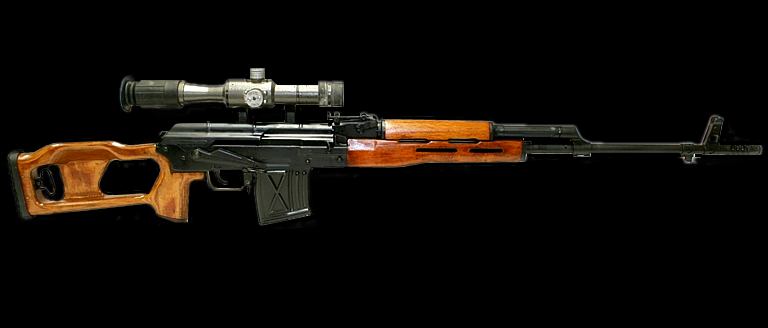 Each Rilfe comes with a 10 round magazine and each scope comes with its own scope cover (while available).